Unpredictable, rough weather often creates a good backdrop for some stunning photos. And there's something about lightning that makes the photo that much extra special. However, capturing lightning in a photo is a lot harder than taking a snap of storm clouds. There is professional equipment you can use to photograph lightning, however, it can set you back quite a lot of money. In this post, we're going to show you how with a bit of camera tweaking and a lot of patience, you can get the same awesome lightning photos.
1. Find the Right Location
Check a comprehensive weather report to find out just where the storm is and where it's headed. You want to be between 10 to 20 km from the storm (around 6 to 10 miles). Being too far from the storm will make the lightning strikes appear small and faint, but being too close to the storm would also make it dangerous. Also make sure that there aren't too many objects obstructing your view. It's best to be on an elevated or flat plain where you can easily make out the horizon.
Position yourself so that the storm sweeps in front of you, rather than towards you or away from you. This gives you more chances to capture the perfect lightning strike without putting yourself in danger or having to relocate to another location.
If you do find yourself very close to the lightning, do keep away from overhead cables, trees, poles or towers. Remember, safety first.
Photo by Chris_Pinto

 2. Bring the Right Equipment
Photographing lightning requires a camera with settings that can be manually adjusted: such as shutter speed and focus. A dSLR is perfect for this occasion but a bridge dSLR like the Canon G12 is also acceptable. You definitely need a sturdy tripod as you would be using long exposures in a dimly-lit environment. A cable-release remote would also help as pressing the shutter button by hand can cause a blurry photo from the movement.
You can use any focal lens for lightning photography and you don't necessarily need a fast lens. A wide-angle zoom lens can be useful and it covers a good range and gives you the flexibility to capture different shots.
Photo by Zeus_the_Ferret
3. Frame Your Picture First
Once you've set up your camera on the tripod, take the time to frame your photo. Spend a few minutes just observing the lightning and see where it's more prominent. If the storm is moving from left to right, you might want to point your camera slightly ahead.
Although it's easy just to point your camera in the sky, also be wary of the landscape. Including things like buildings, trees or mountains could make the composition much more interesting.
Photo by ergates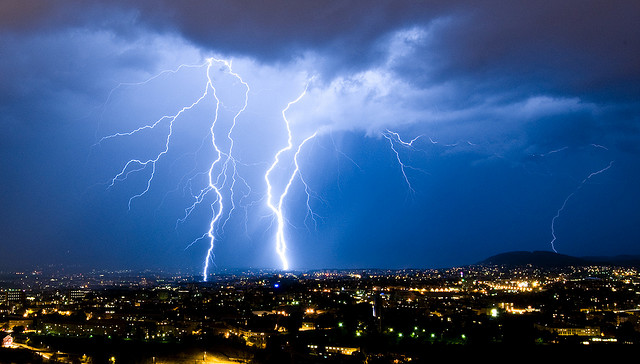 4. Use Manual Focus
Set the focus on something in the distance or have your focus set to 'infinity'. Have your camera set to manual focus rather than automatic. Sometimes your camera would have problems focusing in a dark environment and by setting it to manual focus, it would also allow for a faster camera reaction time.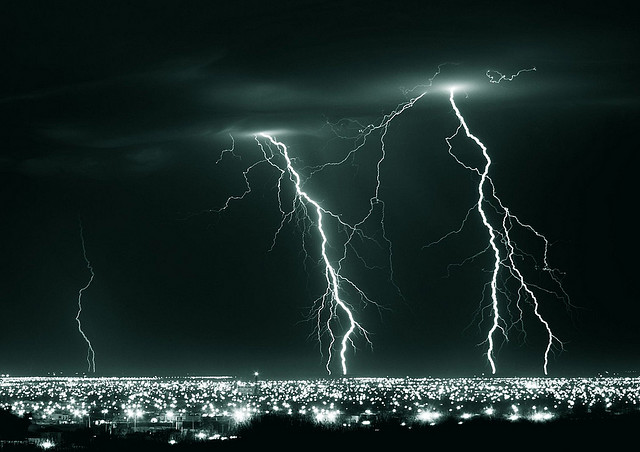 5. Pick a Slow Shutter Speed
Have your camera set to the manual mode and adjust the shutter speed and aperture too. Choose a slow shutter speed with a narrow aperture. You might also need to lower your ISO to ensure that your photo won't be over-exposed. If there are fast moving clouds, you may need to make your shutter speed faster so you won't too much blur in the shot.
For a bit of flexibility, try having your camera in the bulb mode so you can depict manually how long to keep the shutter open for. Once you see the first lightning flash, press down on the cable release and hold until you capture the secondary lightning strikes.
Photo by Eye of the Storm Photography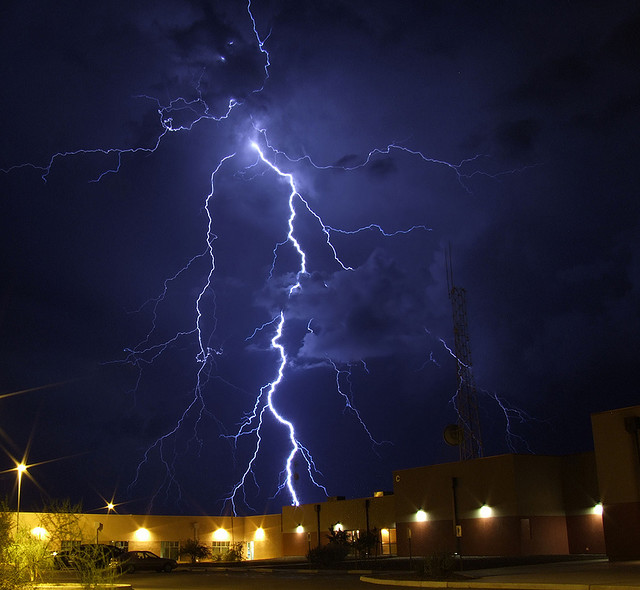 6. Be Super Patient
Taking great lightning photos require a bit of luck and a lot of patience. You do end up with a lot of photos featuring empty night skies. However, with a bit of timing and waiting around, hopefully you'd capture an amazing lightning bolt flashed across your photo.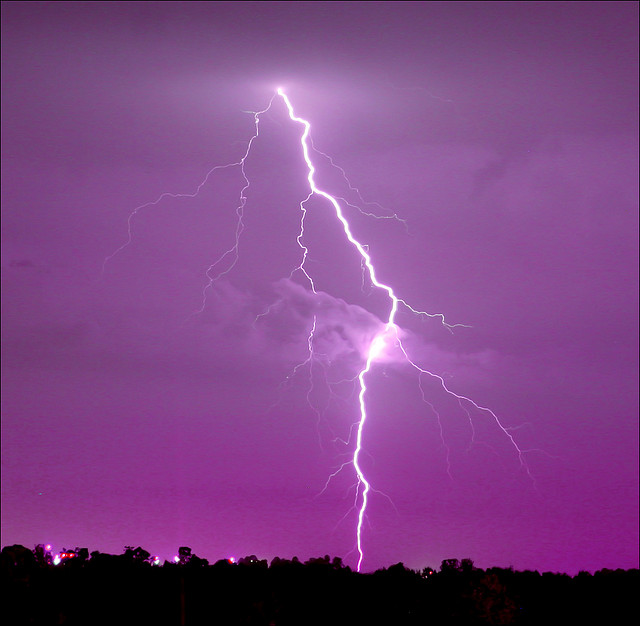 Already have some sweet photos of lightning?  You might try Bumblejax Photo Mounting which provides beautiful gallery quality photo mounting to unique materials such as bamboo, acrylic and aluminum.